If you were able to attend the 2015 Grand National Roadster Show in Pomona you may have noticed that there were a lot of neat GASSERS parked all over the place. They were in the buildings and in-between the buildings! A gasser, for those of you who are a little fuzzy on the subject, is a drag car that uses gasoline and not nitromethane as its racing fuel. In most cases they were stock looking automobiles with mostly metal bodies that have a racing motor. They were lightened by unloading the extraneous parts. Most guys used to lift up the front end, sometimes with a solid straight axle in the front. I think the idea was to shift the weight to the back wheels for traction. If you have questions about car lingo there is a hot rod dictionary in the back of Hot Rod Bunny book I.
Now back to the cars. Over the years I've seen guys racing a wide variety of cars. There are favorites of course because of the horsepower to weight ratio and availability of aftermarket performance parts. Chevy and Ford being the usual suspects in that regard. But Pontiac has also been popular as well. I look through the late fifties and early sixties Hot Rod Magazines and the drag coverage shows a good portion of the cars that are not Ford or Chevy are Pontiacs. Some of you may know that I'm an artist and I painted the box art for the AMT Arnie Beswick's Passionate Poncho drag car model kit a few years ago and that car kinda proves my point. (I also painted the box art for the AMT Bill Jenkins '62 Chevy Northwind kit box.)
When I was touring the show I couldn't help but notice the amount of old drag cars that attended. Old customs and rods were what I expected to see. After noticing all those cool old drag cars, I wanted to catalog many of the cars at the show that weren't Willys gasser drag cars. The Willys is probably the quintessential drag car but I wanted to focus on the other cars that were there too.
In Hot Rod Bunny II Beverly drag races a '34 Ford- not a Willys! That book hasn't yet hit the publisher but it's something for the HRB fans out there to look forward to.
So enjoy the pictures of the cars that were there. I will have several different blog articles about the other customs and rods that attended.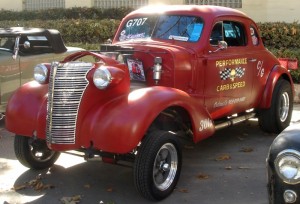 This is a '38 Chevy gasser that was one of my favorites. Love the blue glass!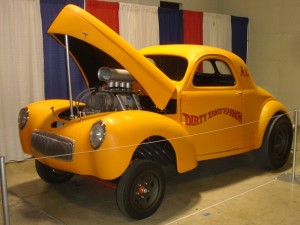 There were several Willys gassers but I wanted to feature the other cars that showed up. Gasser Wars Magazine had a nice display with several of these cars lining the wall.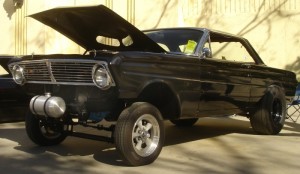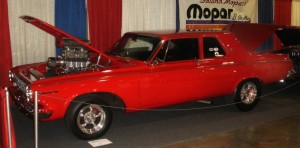 '63 Dodge  330 2-door sedan at the Inland Mopars booth. I don't know if it was a gasser but I love those cars so I included it.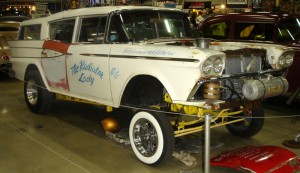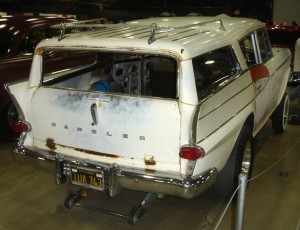 This was the show stopper! The '59 Rambler wagon gasser was a huge  hit and guys couldn't help but photograph it. It had an Oldsmobile engine. It was displayed in the Suede Palace.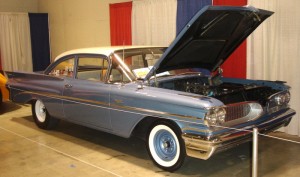 '59 Pontiac Catalina 2 door sedan.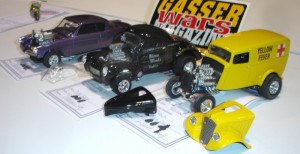 Even Gasser model kits showed up at the annual kit contest. There were the usual Willys cars represented along with the AMT  '53  Studebaker. The "Yellow Fever" car won an award.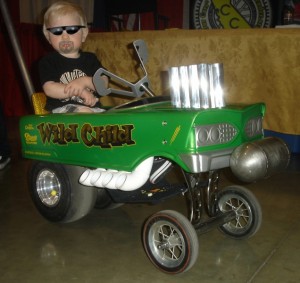 This kid was lucky! His dad made him a gasser pedal car/stroller. No, he didn't have dark glasses and a goatee. I put those on him in Photoshop to disguise his identity. That's one of those pedal cars that resembles a '59 Pontiac in the front. I used to collect old pedal cars when I was a kid but I never had one of those.  They were fairly common back then but I never nabbed one.