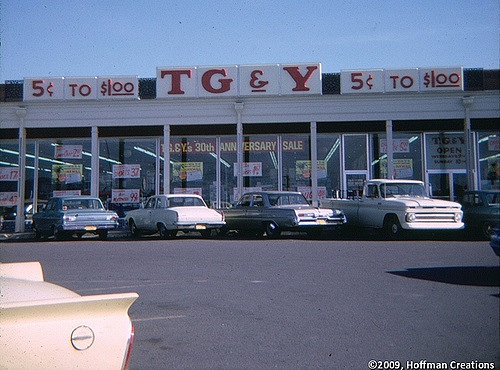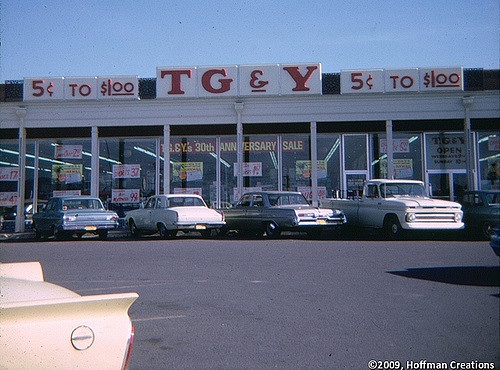 In 1965 the door to a Southern California "Five and Dime" store called TG&Y swung open and a mother and her two youngest children filed in. She headed to the sewing notions department. The young boy and his kid sister naturally balked at the prospect and so were granted freedom to peruse the toy isle. There, a small canyon of model kits, tin toys, large dolls, blister pack Cowboys and Indians and inexpensive "bin toys" beckoned all who entered. The bin toys didn't even have boxes. The young boy stood looking at the lower shelf of neat plastic toy cars that were all lined up with their chrome bumpers gleaming in the florescent lights. He looked at the red Chevy convertible then picked up the blue Cadillac sedan. It looked just like his neighbor's car! "Boy, if only I could get this one" he thought to himself. The sticker on the trunk rang out the bad news…49 cents! He had no money! Even though was the same size as the AMT Jr. Craftsmen model kit, and only half the price, he was sure his mother wouldn't go for it. Besides, she knew he already had two of those plastic cars at home, a '60 Chevy convertible and a motorized '63 Corvette
            Yeah, that kid was me and this is the story of those plastic cars that everyone bought at their local five and dime. They are the heroes of the "Backyard Baja" and the "Bedspread 500"…the Korris Kar. Here's how they came to be.
            Ed Koren and Charlie Youdris were two friends in the plastic molding business. They had been thriving ever since 1946 when they took over an old bakery storefront in Cicero, Illinois. Armed with only two presses, they began molding shoe and pastry display stands. They decided to call the business Korris Products. (Take the first three letters of Ed's last name and the last three letters of Charlie's last name and you have it.) Things were going pretty good. They received the contract to produce plastic wings for Studebaker hood ornaments. Ed's neighbor Leo Albiani, soon came onboard advising them on mold and pattern making techniques. When the bakery building could no longer hold them they moved to Lyons, a suburb of Chicago, where their twelve presses turned out parts for Zenith and O'Cedar as well as other clients. Leo's brainstorm, the patented blue triangle lids for the Morton salt containers made them a major player in the business!
            About that same time, Ray Pierson, a toy wholesaler and innovator in his own right, was looking for another toy to market. Ray was a man of modest beginnings and his is a classic American story. He was a young man from Argentina who left the family farm to pursue his future in the big city. He found himself working at the toy department of Woolworths, a job that would shape his destiny. Before long he was marketing toys that he had specially manufactured. Ray became involved with producing lead soldiers until the need for lead during WWII put and end to his supply. He switched gears and began producing wooden toys. In the fifties, he began noticing more and more toys made of plastic. The production capacity was greater and the cost per part was cheaper. Ray decided he wanted to make plastic toy cars. There were other companies manufacturing plastic toy cars at the time like Processed Plastic, Renwal, Irwin and many others, and they were having a great deal of success at it. Ray's toy cars had to be different in order to sell.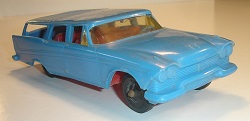 In about 1958 a toy Plymouth station wagon in the popular 1/25 scale hit the market. It had an opening tailgate and a clear plastic windshield. Ray must have looked it over really well. The cars he wanted to make were just a step above that Plymouth wagon. In 1959 he walked in the offices of Ed and Charlie at Korris Products. His pitch must have been good because despite how busy Korris Products was they agreed to make Ray's toy cars. They were called Korris Kars even though Ray owned the molds. Here was Ray's improvement over other toy cars. They had separate grilles and bumpers molded in silver, and clear windshields that were held in place via the vent windows just like the Plymouth wagon, plus a separate steering wheel. The cars were 1/25 scale and designed to be snapped together and be disassembled easily by kids. This was an improvement over the Plymouth wagon, which was riveted together.
The product line was made in unbreakable polyethylene and began with tooling up the 1959 Fords, a coupe and convertible, a wagon and a Ranchero. All patterns were directly taken from the available promotional models or kits from AMT and PMC. Later they added a 1960 Chevy convertible, a 1961 Cadillac, two '61 Thunderbirds, a 1963 Corvette and the popular Jaguar XKE fastback and convertible. Korris didn't miss out on the '65 Mustang craze either. All three body styles were produced. Non-yearly cars included a 1932 Ford hot rod roadster, a slingshot dragster, a Ford GT 40, a Lotus race car and a 1956 T-Bird. The product line grew and they dabbled in 1/32-scale battery operated slot cars and several large-scale cars as well. But the best sellers were the 1/25-scale cars which eventually received chrome plated bumpers and notorious foil sticker hubcaps. The sheet of foil detail parts was supplied by an outside printer but all packaging was done in-house. The cars were offered two ways, as a pre-assembled car in master cartons and as a model kit! The latter was first offered on a blister card. Then the 1967 Camaro and 1968 Corvette came in a box to look more like a standard assembly kit. At one point, Korris Products had over 24 employees on an assembly line putting these cars together. Demand was high for these quality toys.


            As more inexpensive toys from Hong Kong started flooding the market, Korris found sales becoming sluggish. In 1970 Ray Pierson retired and Ed and Charlie bought him out. It was a short-lived run and in 1973 the molds were sold to another manufacturer. The large scale Korris Kars Mako Shark was later released under the Simms name. I have never seen the other cars re-issued. Perhaps Simms only bought the Mako Shark molds. Sadly, it was the end of an era. But, those of us who were kids in the 60's will look back fondly on those well detailed Korris Kars.
            So, what happened to my little white '60 Chevy convertible? By 1967 it found new life as a slot car. It was truly unbreakable although the windshield frame had sheared off. I had it screwed to a "Classic" slot car chassis with it's back-end high in the air. I regularly sailed it off the track at the local Vanguard raceway in Chino California.  Just across the parking lot from TG&Y!
           -Brad Leisure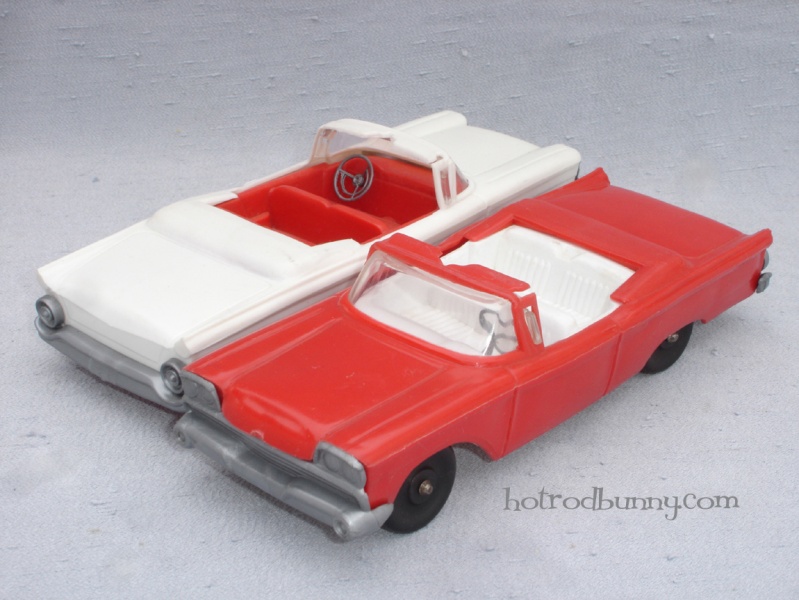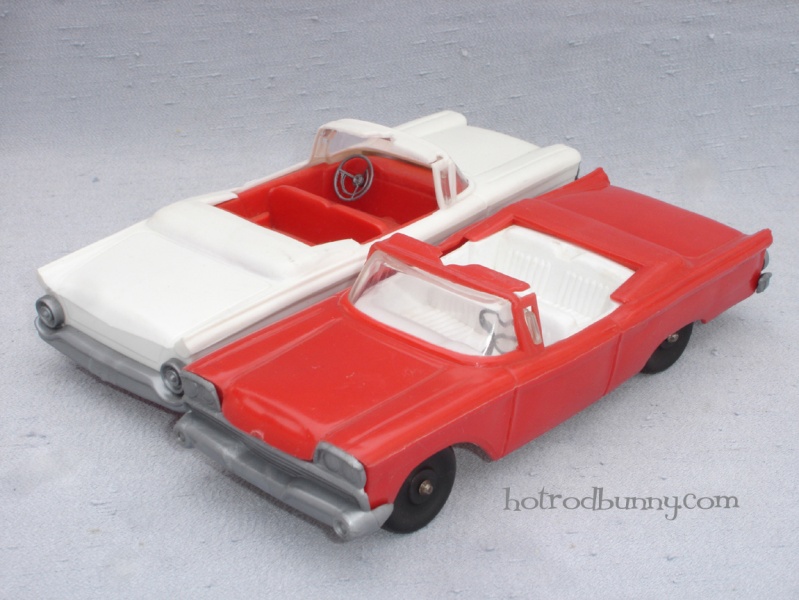 Note the very first '59 Fords made by Korris Kars had rubber tires.


The '59 Ford Ranchero and station wagons were offered in both civilian and military garb.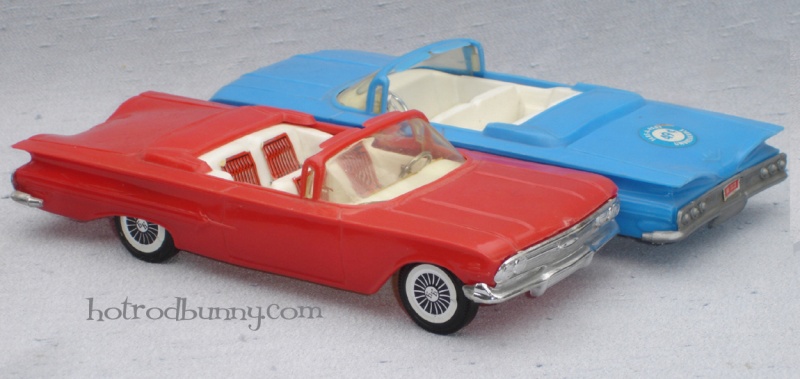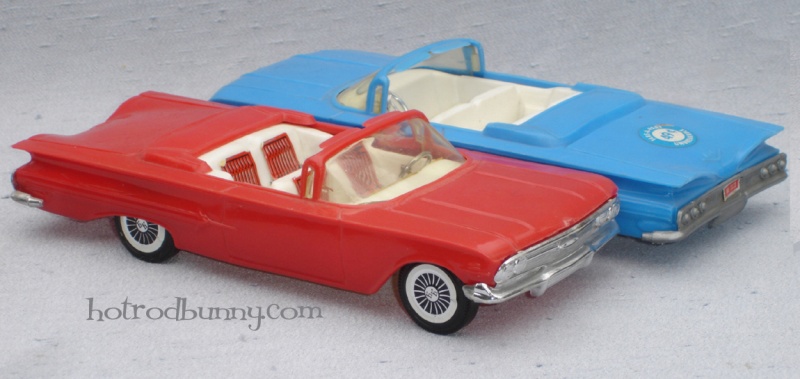 The popular '60 Chevy convertible. Note the foil hubcaps and seat inserts.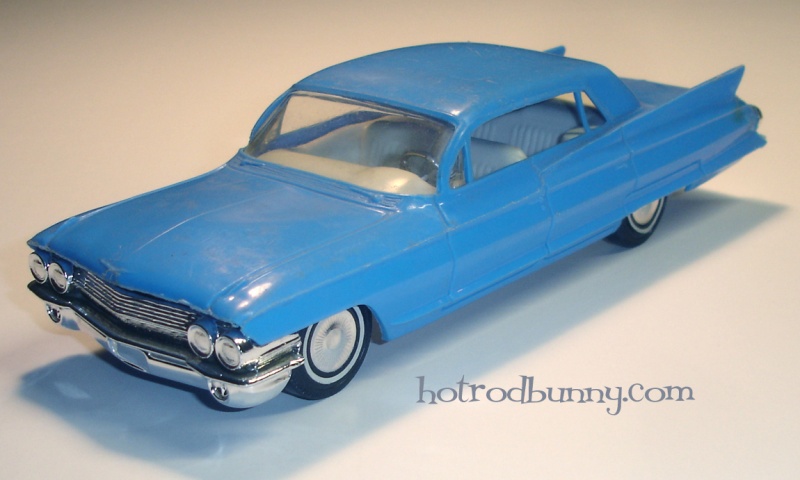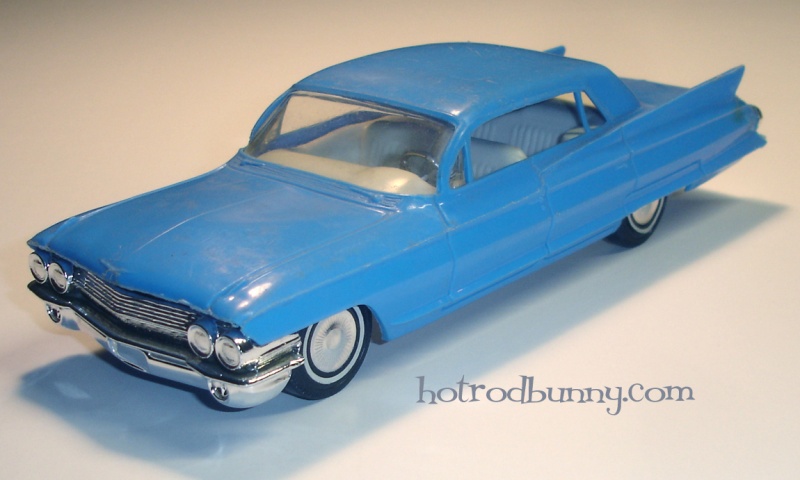 The elusive '61 Cadillac Fleetwood sedan. A copy of the JoHan kit. Yeah, I finally got one!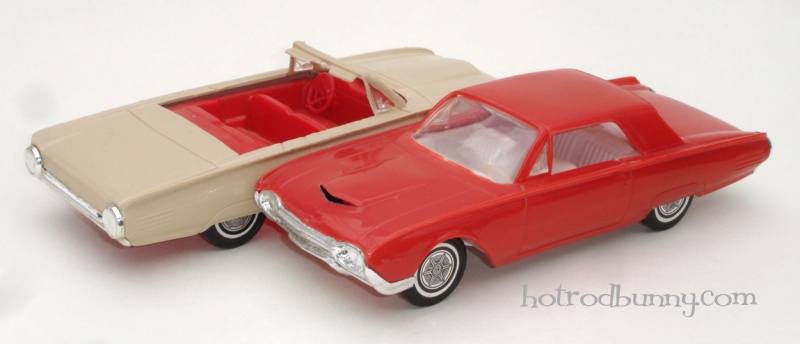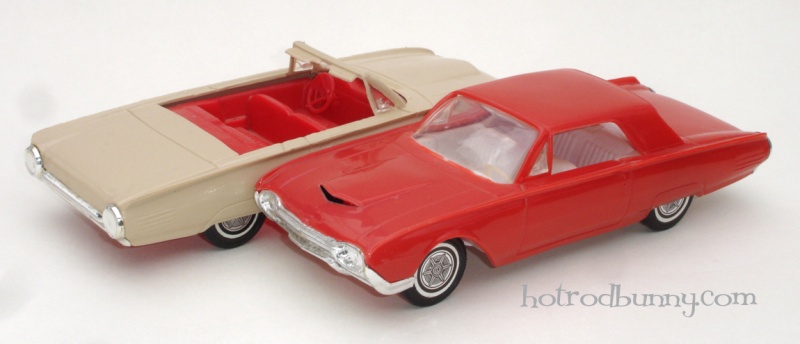 The '61 Thunderbird came in both coupe and convertible models.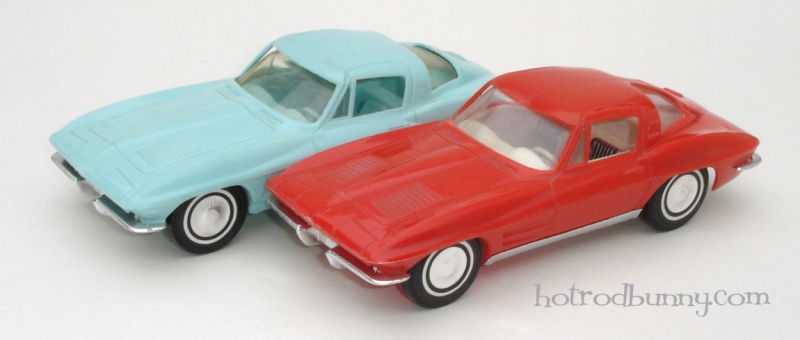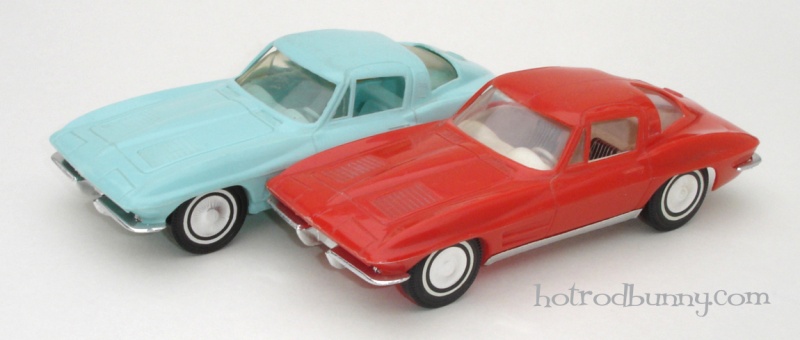 The Corvette Stingray originally issued as a '63. The molds were later changed to remove the split window and update details.
The '63  hood remained on all models, however.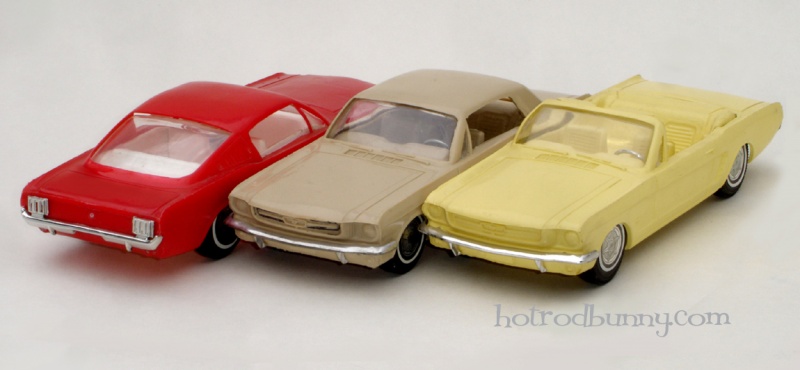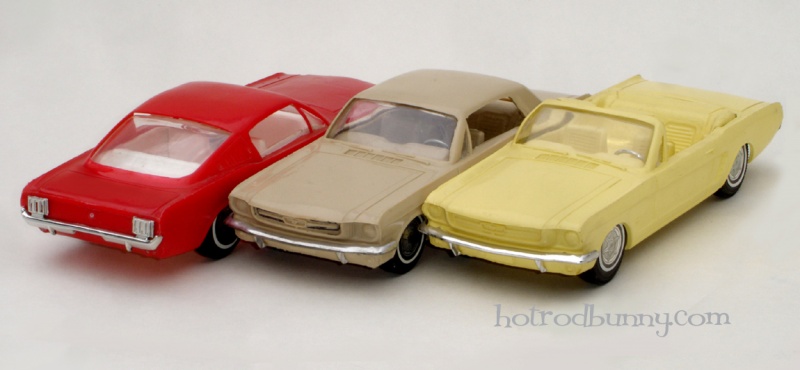 The '65 Mustang was well represented with all three body styles available to awaiting kids.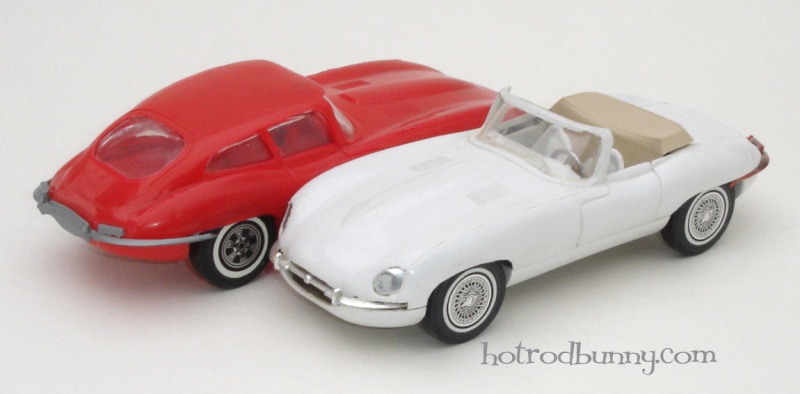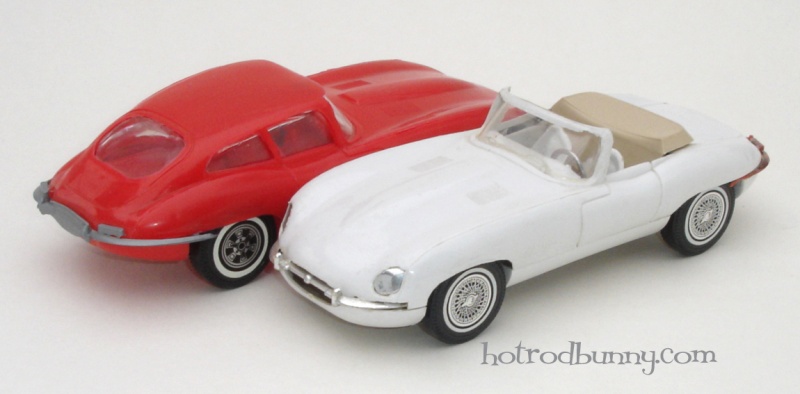 Jaguar XKE fastback and roadster. Many of these cars were offered with battery operated motors.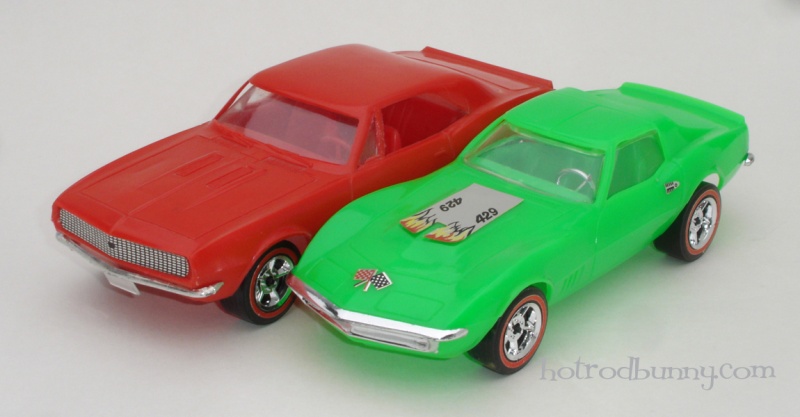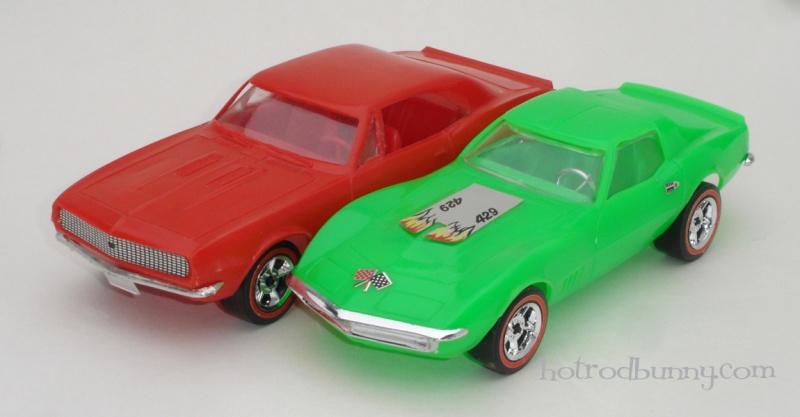 These were some of the last cars tooled up by Korris. The '67 Camaro and '68 Corvette.
The Camaro came with a foil sticker for the grille detail and for some reason, the Corvette had a custom grille
.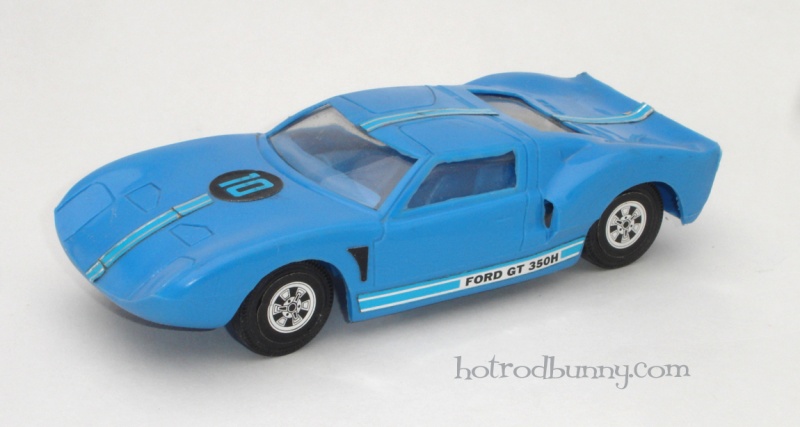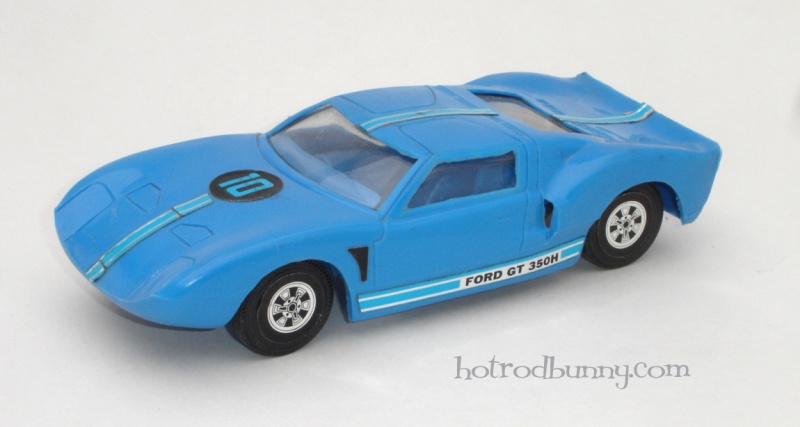 The Korris Ford GT 40 competed with the Gay Toys version, which is easier to find.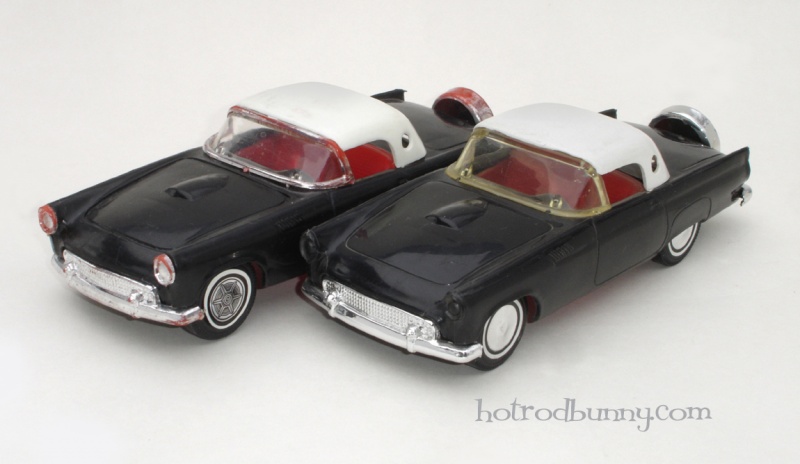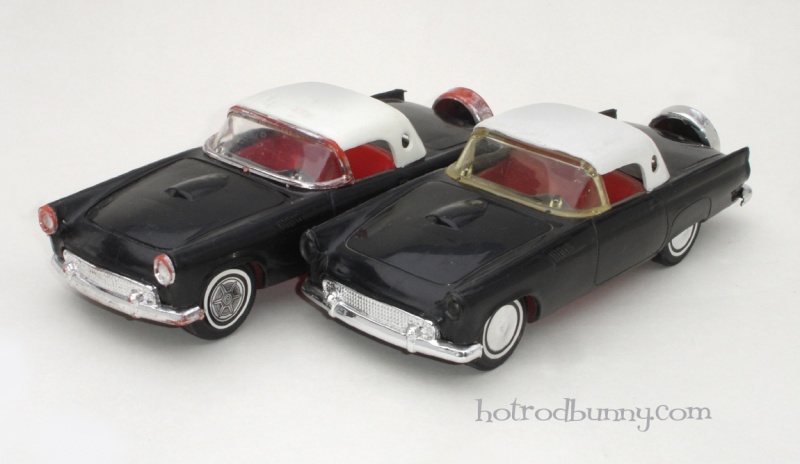 The '56 T-Bird was offered in two different versions. One with separate headlight bezels and windshield trim.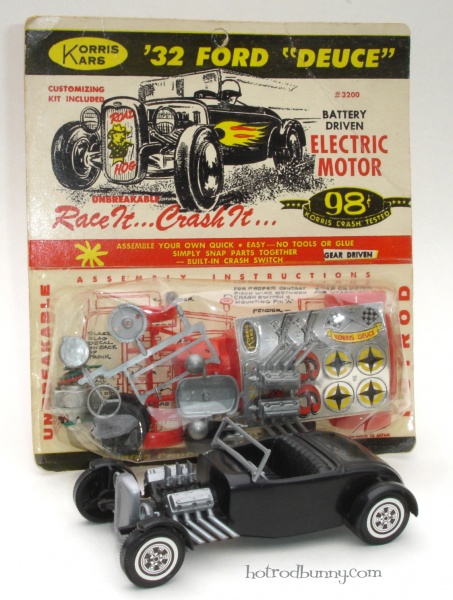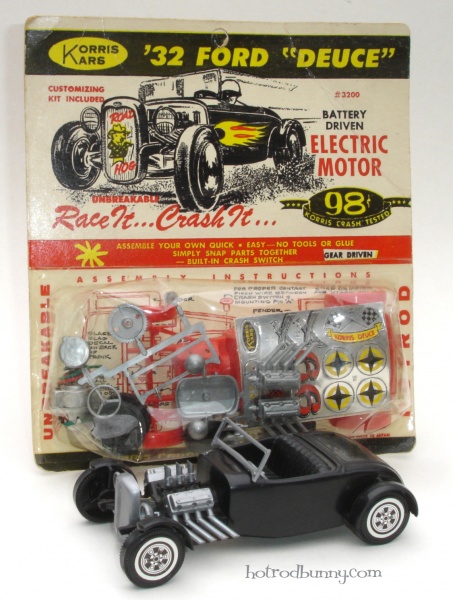 The Deuce roadster hot rod was an early offering by Korris Kars. They cashed in on the popular craze in the early 60's.
This unopened kit was purchased from an employee of Korris Products years ago.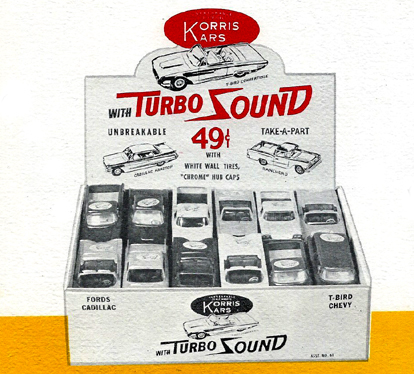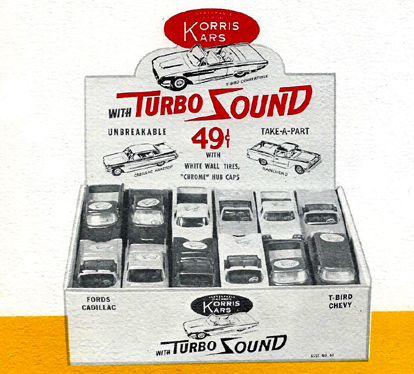 One of the master cartons available to retailers in the mid 60's.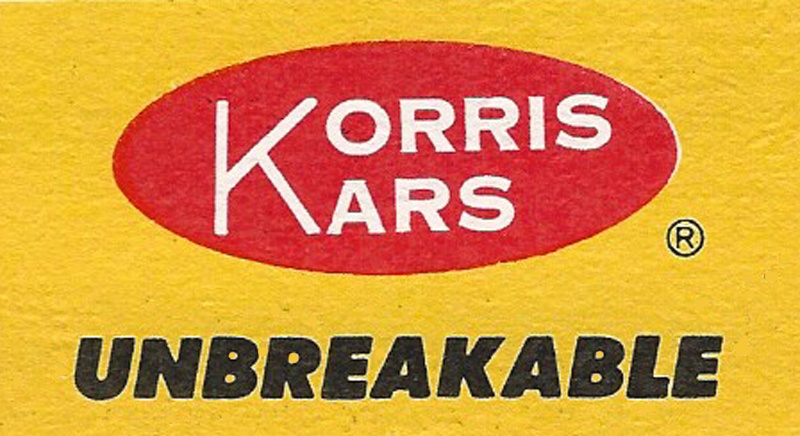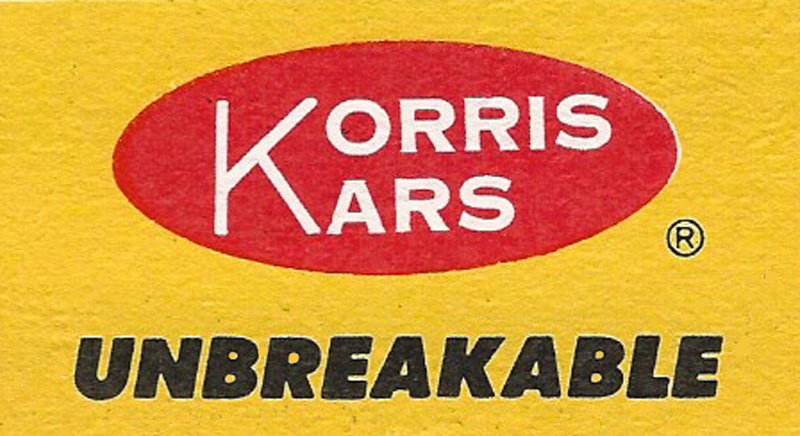 This logo promised big play value at a small price.
(Thank you to Hoffman Creations for preserving that cool photo of a TG&Y store!)